Our body is a composition of multiple things. We could never be sure of what makes our body whole. But as far as we know, various nutrients are formed in our bodies. Our body is perfectly formed by nature. And it is important to keep a balance between everything in our body. Deficiencies and excess of anything can be dangerous for health.
Most responsible citizens pay special attention to their health. Annual medical checkups, regular physician consultations, dentist appointments, and regular blood tests for iron and other deficiencies are usually what's taken seriously by most people. But there are still many things that most people don't know about yet. And one of them is spermidine. Spermine is found in the eukaryotic cells of our body. And low levels of spermine can be the reason for multiple health issues.
What is spermine?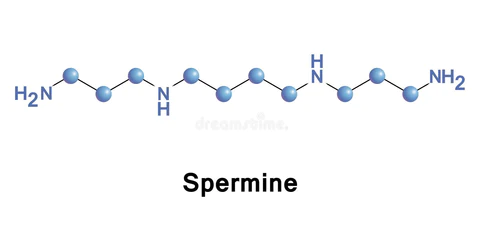 Spermine is an instinctual polyamine that is found in the eukaryotic cells of our body. It holds multiple amino groups and it is essential in multiple bacterial growths as well. Spermine is beneficial for fighting viruses and is also important for stabilizing helical structures with the help of nucleic acids.
Spermine is a polyamine and polyamines are positively charged and can help condense DNA in sperm. Due to its physiological condition, it can improve cellular metabolism. The main role of polyamines is that they represent biological compounds. Spermine is derived from spermidine and it's biogenic that is found at all ph values as a polycation.
Spermine and spermidine are similar as spermine is a biogenic compound derived from spermidine but they are both found in eukaryotic cells of our body. Spermine plays a huge role in the process of cellular metabolism. It makes our body fight against viruses through the growth of good bacteria.
What is spermine used for?
Spermine is a strong polycationic polyamine that is found at all ph levels. The main purpose of spermine is to control and improve cellular metabolic processes. Spermine is used for physiological and microbiological research. Spermine is effective for DBA proliferation and it also affects RNA as these polyamines are positively charged.
Spermine is important for cellular growth. It is one of the two polyamines found in vertebrates; another one is spermidine. The precursor of spermine is diamine putrescine. For most people, it still raises the question that "what is spermine" and what it is exactly used for? So, the short answer is that spermine is found in huge amounts in human semen. Spermine, unlike spermidine, is found in eukaryotic cells but rarely found in prokaryotic cells.
Spermine is used to protect our body from cell damage and low count of cells by calculated renewal and regrowth of cells. Due to its protein function and presence of nucleic acids, it also helps prevent your body from oxidative stress and virus attacks.
What is spermine made of?
Spermine is made of a precursor diamine putrescine. It is a polyamine found in eukaryotic cells and plays an important role in cellular growth and protection. Spermine also has a part in stimulating autophagy which helps cellular growth and metabolism.
Where is spermine found?
Spermine protects our body from oxidative damage. It is found mostly in millimolar concentrations in the nucleus. Spermine is found in our body's eukaryotic cells and it is found as tiny organic polycations but they are small doesn't mean that they are useless.
These tiny polyamines are extremely helpful in the cellular improvement and work with different molecules in our bodies. They make our body cells healthy and active, as a result of which, our body can work efficiently.
But if you get yourself tested for spermine and your body is short on it, then here's what you should eat to improve the spermine count naturally:
Rice bran
Wheatgerm
Broccoli
Variety of cheese
Pear
Liver
Grapefruit
Orange juice
Lentils
All these food options mentioned above can be a great source of spermine and can benefit your health significantly if added to daily food options. Make this a habit to introduce new healthy food to your diet if you are not getting enough of it.
These food options are not just an excellent source of spermidine, but they are also enriched with other nutrients like vitamins, protein, iron, potassium, and sodium.
Cheese can be the best option for spermine if it is in a form of aged cheese. Aged cheese means it has been six months or more to that cheese. Keeping cheese under a controlled environment for that long makes it harder and it may taste a bit strange, but it is highly concentrated so it is for the best.
Keep one thing in mind this cheese can be higher in fat than it was in its original form, so take no more than 1.5 ounces in one serving if you are keeping count of your calories.
What are the benefits of spermine?
After you have learned about "what is spermine", now it is time for you to learn why is it important. Because you will only be able to keep your spermine count seriously if you know about the benefits. So, here are some potential health benefits of spermidine:
• Longevity:
The very first and most concerning benefit is longevity. Spermidine delays aging and makes your body function better. It helps prevent premature aging by keeping your cells healthy.
• Anti-inflammatory
The anti-inflammatory properties of spermine can benefit you from chronic pain and inflammation related to chronic diseases. It helps relieve the pain as well.
• Antioxidative properties
Helps reduced using antioxidative stress due to its antioxidative properties.
• Respiratory health
Respiratory health is improved by the efficient level of spermine dining in the body. Your lungs function better.
• Heart health
Spermine protects from heart disease and also destroys cancer cells, reducing the risk of cancer and heart disease.
• Metabolism
Another great benefit of spermine is controlled cellular metabolism which is useful for suppressing diet as well.
What are the side effects of taking spermine?
Spermine is formed by our body naturally. So, it is okay to take spermine supplements. Since it is already present in our body, so it doesn't cause any harm and according to studies and research, spermine is safe and tolerable by every normal human being. There are no certain side effects that can make the usage of spermine supplementation harmful.
Overdosing of spermine:
The dosage of anything can be dangerous. Spermine, when taken at a regular dose, can be extremely beneficial. But when hen dosage exceeds the regular dosage, then it can be dangerous. Overdosing with spermine can lead to aggressiveness, strokes, and paralysis.
Youthavar:
If you want a healthy lifestyle then it is time to get started with Youthavar. Youthavar is a certified product composed of spermidine and cycloastragenol, both of which are perfect for anti-aging. Along with delayed aging, it provides you various other health benefits like boost your immune system and help reducing inflammation and pain.
It's time to clean your cells and renew your life with a fresh start by getting a new lot of cells because Youthavar will help with the calculated growth and renewal of cells in your body.
Valhalla Vitality:
Youthavar is a certified product introduced by the licensed company Valhalla vitality. We are known for our genuine products made with pure and natural ingredients. We make sure to keep our promises by providing the benefits we claim with our products.
We are now making these supplements available for you on our online store because we know that after learning about "what is spermine", you would be desperate to try this for your satisfaction. Before that, you can also read customer reviews and visit our website for more information. Stay healthy, stay safe.