THCV cannabinoids are structured in a way that is useful for various health conditions. Studies are being done on THCV. But most of the studies were experimented on rats, and not humans. But, with all the studies and research done till now, it has been found that THCV can help cure multiple health conditions.
THCV compound is used to cure mental illnesses like Alzheimer's, anxiety, and other conditions. THCV is also being used to treat physical health conditions including cancer, blood pressure, and more.
What is THCV cannabinoid?
THCV Cannabinoids
THCV is Tetrahydrocannabivarian, which has been popular in the drug industry. THCV is a cannabis compound that has many medical benefits, unlike THC and CBD. There have been multiple tests and research on the product, and they are still going on to know more benefits and side effects of the product.
Cannabis has many other compounds that are used for different purposes, but THC and CBD can have some mind-altering effects, which is why they are not recommended for medicinal purposes. Whereas THCV cannabis has very little amount of THC, so it doesn't make you feel high, and it can be used any time in the day, without getting dizzy. Although, when taken in high doses, it can have some psychoactive effects.
What are the effects of THCV cannabinoids?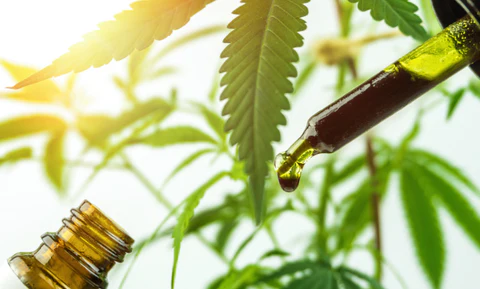 THCV is known as diet weed and there is a reason behind it. You may have heard about cannabinoid THCV appetite increasing, but THCV is the opposite. Cannabinoid THCV appetite is known to suppress.
Although most of the studies just experiment on animals, it has been confirmed by the scientific advisor and researcher Saorise O'Sullivan, that THCV can be used to suppress diet, which is why it is now being used to reduce weight and cure obesity patients.
The scientific reason behind this is that our body has a receptor called the CB1 receptor, and this receptor's job is to revitalize appetite. But when you consume THCV, it will block the CB1 receptor, which is why you don't feel like munching every time.
Although THCV is also being associated with many health benefits, it has also shown by a little research that it can have its part in many different diseases:
Liver disease
Acne
Epilepsy
Psychosis
Bacterial infection and inflammation
Point to ponder:
None of these side effects are confirmed yet. There is still research going on. And a very limited trial is done on humans, the rest of the study is based on animal research. And this study has also shown that THCV can be used to reduce increased heart rate, and negative effects of THC as well.
Other effects of THCV:
PTSD:
THCV can be of great help to people who can easily get depressed. It can be used to treat PTSD and other anxiety disorders. If you are worried, it doesn't suppress your emotions, but it may affect how you feel, to make you feel good. If THCV is taken in higher doses, then it can activate psychoactive effects.
THCV with a lower dose can be of great benefit for people suffering from anxiety disorders.
Diabetes:
THCV can be helpful for diabetes patients. It can help regulate blood sugar levels, and decrease the need for insulin.
Cancer:
THCV can be used to treat various cancer conditions.
Pain:

THCV helps reduce chronic inflammation and pain that can be caused due to diseases like diabetes and Alzheimer's. This is possible due to the strong and broad effects of THCV on CB1 and CB2 receptors.
Alzheimer's:
Regular intake of THCV can reduce the symptoms that lead to Alzheimer's. It boosts mental health which can help fight the anxiety related to Alzheimer's, and also decreases inflammation.
How does it work?
THCV cannabinoids can be known as a compound in-between THC and CBD. Because THCV has effects on both these compounds. It is a rare compound because of its different effects varying in different doses. Unlike, THC it doesn't have psychoactive effects, but that's until you don't get a high dosage. In low doses, THCV is anti-psychoactive, but in high doses, it can also have psychoactive effects.
Is it safe to try?

Well, the researchers say that it is mostly safe to try. Although very limited studies have been tested on humans, those who volunteered for the experimental intake were shown positive effects of the cannabinoid. Some of them however felt a little more tired.
So, if you are taking supplements containing THCV, then you might avoid driving unless you know your body is going to react to it. You also need to be careful about driving if you are taking a product that also has THC because THC-containing products can have high psychoactive effects, based on the quantity of THC in the product.
Dosage:
THCV is safe to consume if the recommended dosage is taken. It is recommended to consume 10 mg daily, for up to 13 days.
Do THCV cannabinoids suppress appetite?
Yes, THCV cannabinoid is gaining popularity due to its quality of suppressing diet. As you know, losing weight and gaining fitness is one of the major obsessions these days. And it is not even easy to lose weight. But, THCV can suppress diet by blocking the CB1 receptor, which stimulates appetite. This is why THCV is also being used to help obese patients, and people who want to lose weight.
Why it's called diet weed?
THCV is called diet weed, because of its appetite-suppressing property. It is also known as the healthiest weed because it doesn't make you feel high. You don't get addicted to it if take the recommended dosage. It has fat-curbing and energizing properties, which is why it is known as diet weed.
What is Hypavar?
Hypavar is a super nootropic THCV product by Valhalla Vitality Shop. We have tried to make the best version of THCV in the form of hypavar.
Hypavar provides clean awareness, power, and intellectual clarity even as generating calming tension comfort, and, pleasant of all, no-drop off causing a crash. Hypavar is hemp primarily based nootropic that can provide a lift in intellectual readability, cognizance, strength stages, and speedy appearing anxiety relief.
With the current federal legalization of hemp inside the United States, a plethora of hemp-based treatments that had been previously unknown at the moment can be researched and made available to most people.
THCV (tetrahydrocannabivarin) is a minor cannabinoid observed within the hemp plant that has been scientifically shown to provide a whole host of capacity health advantages. THCV is proven to be exceedingly powerful at supplying anxiety alleviation, jitter-unfastened energy, intellectual readability, and consciousness and even have some impact on suppressing appetite. This aggregate makes THCV the suitable ingredient for growing the sector's maximum flexible nootropic.
Vitamin B12 is first-rate for cognitive improvement and enhancing power ranges, but effects are typically most pronounced while taken thru an injection.
Valhalla Vitality Shop:
At Valhalla Vitality we attempt to create and provide a clean get right of entry to the tools people want to obtain top wellbeing. This equipment comes in the form of schooling, dietary dietary supplements, topicals, and devices that deliver individuals' strength and manipulate their health and happiness.
Our crew is dedicated to the usage of the most up-to-date studies to broaden modern-day technology for a holistic technique for wellness. We accept as true that leveraging contemporary expertise and gear with a holistic method to well-being will permit people to redefine our limits as each species and as individuals. With the proper gear, we can beautify our bodily and intellectual performance, sluggish the procedure of aging, preserve higher health and enlarge our lifespan; and Valhalla Vitality wants to be part of your group in reaching those goals.
By using SENDS, our patent pending vitamins shipping device, you may now realize injection comparable benefits of vitamin B12 in Hypavar. By combining THCV and B12, Hypavar creates a synergistic nootropic impact this is versatile enough to apply from morning to night time!
Buy THCV products online on Valhalla Vitality Shop:
We have now made it easy for you to buy THCV products online. So, you don't have to wonder about drug stores to find the right and authentic Hypavar. You can easily order one for yourself online. Just click the link below and you will find all the details:
Buy Hypavar: Super Nootropic at Valhalla Vitality Shop